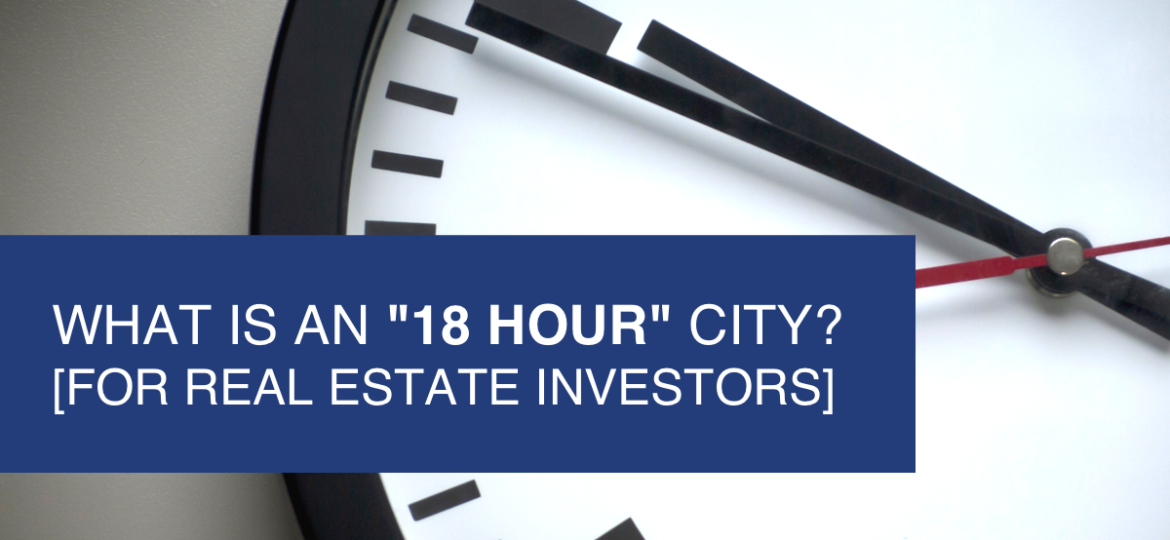 What Is An "18 Hour" City?
[For Real Estate Investors]
It turns out New York isn't the only city that never sleeps. Other cities, including LA, Chicago, San Francisco, and Washington D.C., can also be considered "24 hour" US cities. While these places draw massive amounts of people, investments, and attention — their size and popularity can negatively impact the quality of life of their residents. People are looking for other options that match the lifestyle they want at more reasonable budgets. Can real estate investors take advantage of this trend?
Compared to what 24 hour cities are offering, smaller cities are starting to look more and more desirable. Less congestion, lower costs of living, and good jobs are all convincing people to skip the mega cities. Second tier cities, now being called "18 hour" cities, are experiencing a population and investment boom instead.
These places move at a slightly slower pace but still offer many of the amenities of urban life, attracting people from all demographics. As these cities grow and modernize, there will be a lot of opportunity for real estate investors.
Many of these small but growing cities are even taking steps to increase their contrast with overcrowded, overhyped megacities. Tax incentives and business-friendly policies spur job growth and business creation in previously stagnant towns. This all plays very well for the real estate markets in "18 hour" cities. As these cities emerge as centers of both population and business growth, real estate investors would be wise to act fast.
---
The Urban Land Institute defines "18 hour" cities as a small or mid-sized city with above average urban population growth, a low cost of living, and a low cost of doing business.
---
Why "18 Hour" Cities are Great for Real Estate Investing:
Population Growth = Rising Demand for Housing
As more and more people look to move into 18 hour cities, there will be increased demand for housing. Increased demand is great for the fix and flip market, whether you are planning to improve and sell for a profit, or buy and hold as a rental property. Depending on the available properties and target market, this can also create lucrative opportunities to divide single family homes into multi-family structures. Combined with a strong home buying trend among urban-loving millennials, overall population increases in "18 hour" cities favor the rehab market.
Booming Economies = Support for Increasing Property Values
Not only does a stronger job market help raise property values across the board, it specifically supports a high ROI on rehabbed properties. Better jobs mean people will qualify for larger mortgages and will be looking for housing that matches a higher standard of living. Outdated, small, aging properties can be significantly improved to match the wants of the newer, wealthier population. With a little sweat equity, you can rely on a high ROI in an improving economy.
Fresh Growth = Available Inventory
Because the growth in "18 hour" cities is new compared to "24 hour" cities, there will be more standing inventory of available houses to flip with less established competition trying to invest in them. Areas that may have been depressed for decades will have plenty of opportunity for investors. Deferred maintenance is the house flipper's opportunity.
New Businesses = Selling Points for Urban Properties
As "18 hour" cities grow in population and wealth, new attractions are being added that will shift property values and desirability. New concert venues, shopping experiences, and sports facilities add life to an area and can mean big changes in nearby property values. Cities are luring private enterprises with tax incentives while simultaneously investing in public spaces like parks and stadiums. These new developments can turn a sleepy neighborhood into the hottest new zip code. Smart investors keep up with planning commission reports and permits to find the next hot location first.
---
As "18 hour" cities increase in popularity and growth, real estate investors will play an important role in revitalizing available housing. The opportunity to transform what housing exists to something that reflects the changing demographics of these cities is huge. Growth of "18 hour" cities is a trend we expect to see continue for many years.
Charlotte, Denver, Nashville, Minneapolis, Austin, Hartford, Raleigh, Seattle, Portland, Tampa, Atlanta, Salt Lake City, and Orlando are all cities that are likely to grow in the years to come.